Imprinted Concrete Patios from Impressed
Here at Impressed Ltd we pride ourselves on the fact that our installation teams have been involved in over 10000 individual projects in the past quarter of a century. We are able to stand by our assurances of a high working standard and an unsurpassed knowledge of the product. We are able to produce very positive testimonials and numerous excellent examples of our work throughout the United Kingdom.
Imprinted Concrete is a method used for laying high strength concrete and applying both the chosen colour and pattern to the surface of the mix in situ. Provided it is laid correctly there are many advantage for using this product on driveways, patios, paths, pool surrounds or any other area requiring a suitable hard standing.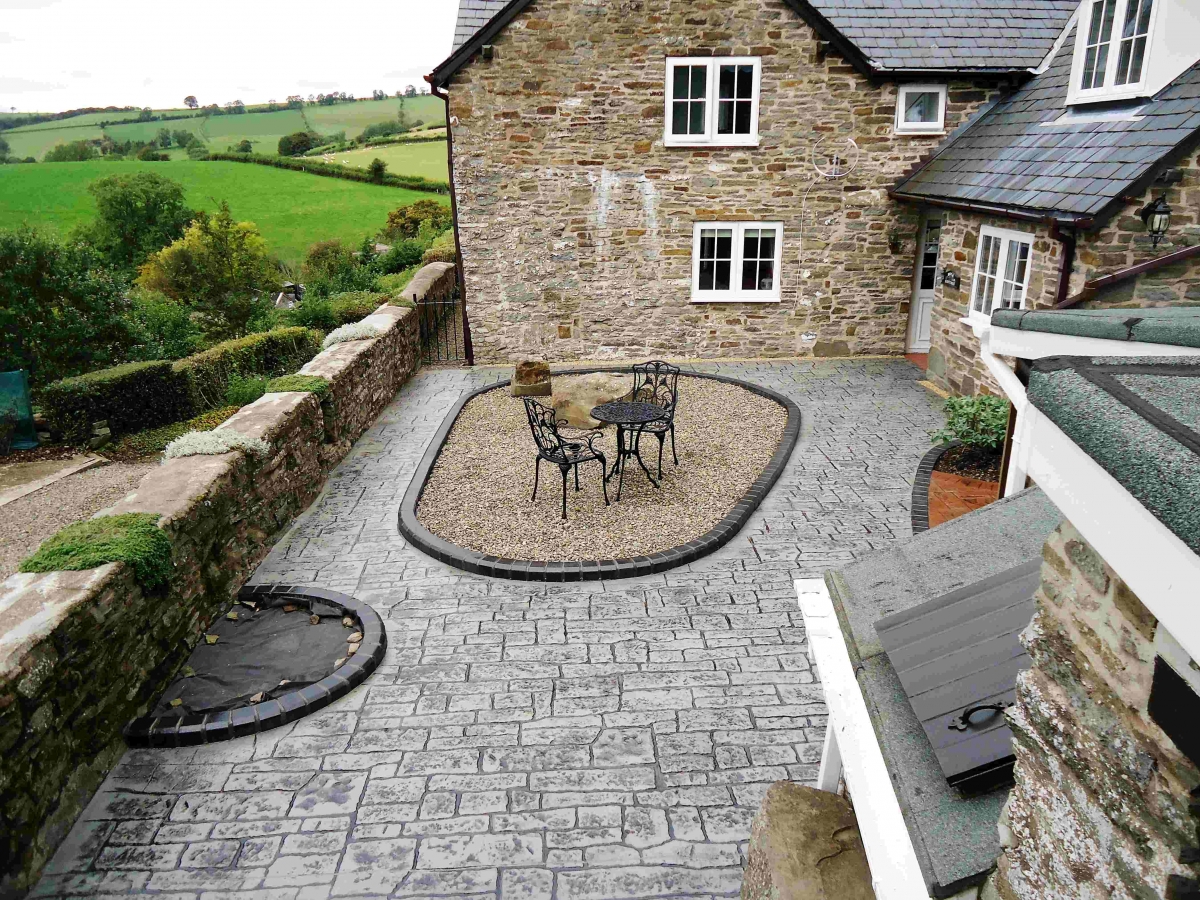 Advantages of using Impressed Paving
A solid fibre-mesh reinforced concrete slab laid on the correct sub-base, at 75mm to 150mm (3-6 inches) will not sink or spread.

The impermeable surface enables us to take rain water into the sub-strata at the locations we wish it to do so - satisfying both environmental issues and the needs of the property.

The sealed surface is not porous - therefore permanent staining is preventable.

The vast choice of colours and patterns combinations is practically limitless - enabling us to create driveways and patios to suit any property.

The speedy installation is usually finished within 3 days.
Why Pattern Imprinted Concrete? - Patios
An Imprinted Concrete Patio is so much more than merely a solid slab of concrete giving you somewhere flat to put your furniture and stay off the wet grass. So, why especially, a Patterned Concrete patio?
With such a huge variety of Colours and Patterns, the paving will blend in PatternImprinted patio with split levels. harmoniously and become part of the landscape, as if it had been there for years.
Any unsightly drainage features such as manhole covers which have previously hampered the appearance of the garden will be very well pattern imprinted concrete patio paving from Impressed Ltd, the patios and driveways professionals disguised.
Peculiar levels and ugly peripherals can be catered for within the project's design by incorporating split levels and steps.
Your new Pattern Imprinted Patio Can look as old or new as you wish, depending on the type of sealed finish it is given.
Pattern Imprinted Concrete is low maintenance and easy to clean, it is also very resilient to gathering moss.